And the winner is..here's what I should have said
by Lisa Armstrong, on 26/11/18 10:47
Knowledge Shop won the Training Provider of the Year Award at the SMSF & Accounting Awards in Sydney last week.
While we were hoping to win, it was still a surprise to hear Knowledge Shop's name read out….then there is the adrenaline fuelled moment you realise that you have to get up on stage and say something credible while hoping; you don't trip on the stairs, you make sense, and you don't have spinach in your teeth from the main course.
I'm not entirely sure what I did say but here is what I meant to say:
Thank you.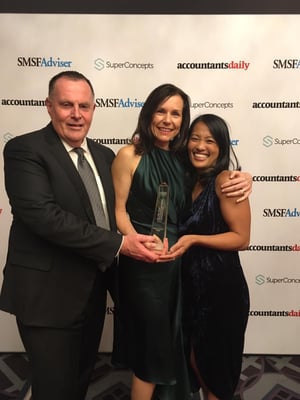 Knowledge Shop started as an idea in Hayes Knight's boardroom around the time the GST was introduced. The idea was about change and what it took to manage and implement change inside a practice while operating at best practice. What does it take to ensure that you are doing the right thing by your clients and your team? Knowledge Shop was born out of a need to help the profession do exactly that.
Well over 80% of professional practices have 3 partners or fewer. They are dedicated, time poor professionals trying to manage a constant barrage of change from the regulators. There is only so much time in a day. It's not unusual for me to have online email 'conversations' with practitioners late at night and across weekends. We know how hard you work and how many hours it takes.
Today, Knowledge Shop acts as a 'big brother' to thousands of these professionals across the country with training and through our membership service. We're not a big company but we punch well above our weight. We are able to make an impact and stand proud against much larger competitors. We can do this because of our dedicated team.
Special thanks to our exceptional Tax Director Michael Carruthers, our dedicated 'Super Man' Garth McNally, our marketing and events impresario Nadine Dulnuan who runs our rapidly growing training services – this is really for you Nads - and of course, our Chairman, guide and mentor Greg Hayes whose influence makes the difference between success and mediocrity. There are more people that should be thanked because of the significant contribution they make to what we do, you know who you are, so thank you to all of you.
Change will continue to be a constant in the lives of the profession and in 2019 we will see the implementation of the FASEA changes. Knowledge Shop will be here to help implement those changes with pre-exam support and structured ongoing training to help fulfil the extensive PD hours required (details soon at knowledgeshop.com.au).
And finally, thanks to Momentum Media (SMSF Adviser, Accountants Daily) for hosting the awards and recognising professionals from firms of all sizes. The Awards are an incredible validation of the blood, sweat and tears that go into making a difference.