FASEA release exam guidance
by Knowledge Shop Editor, on 17/05/19 12:50
FASEA have released exam details and guidance including the long awaited sample questions. Plus, they have clarified a few of those common questions like what happens if I fail?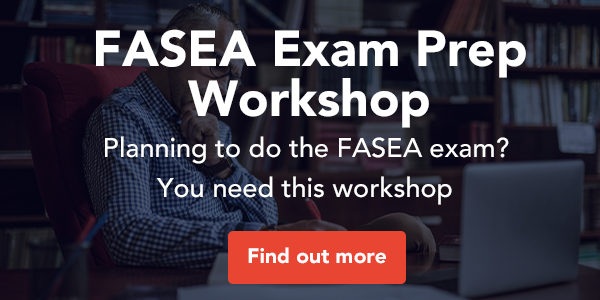 Here are the key issues for accountants and advisers:
Exam Registration
FASEA has released details of two FASEA exam periods for Sydney, Canberra, Melbourne, Brisbane, Townsville, Adelaide, Perth, Darwin, and Hobart.
Pre-registration is required. Registration is now open and closes on 31 May for the first FASEA exam sitting. For each sitting, registration will be open approximately 6 weeks prior to the exam.
| | | |
| --- | --- | --- |
| 2019 Sitting | Sitting dates | Pre registration dates |
| 1 | 20 June - 24 June 2019 | 13 May 2019 - 31 May 2019 |
| 2 | 19 September - 23 September 2019 | 12 August - 30 August 2019 |
You need to meet the eligibility criteria to sit the exam.
FASEA exam registration link.
Exam implications confirmed
In their exam FAQs, FASEA have confirmed:
If you fail the exam

you will need to resit the entire exam (not just a section)

If an existing adviser does not pass the FASEA exam by 1 January 2021,

their Licensee will be required to remove their authorisation to provide advice and notify ASIC that they have not met the examination requirements of the Corporations Act. Their status on ASIC's Financial Adviser Register will be updated to reflect that they are no longer authorised and therefore "ceased". If they want to return to practice, they would be classified as a new entrant and would need to meet the new entrant requirements.

The FASEA exam has been set at a credit level pass mark.
Pre exam preparation materials
FASEA has released a series of exam preparation materials including the long awaited sample questions.
Do I need to sit the exam?
Short answer, yes. Every adviser must complete the exam by 1 January 2021.
I hear that the Chartered Accountants (insert other professional body!) are negotiating to reduce the requirements on their members.
The professional bodies have been negotiating the future of financial planning for some time. They accounting bodies also lobbied to keep the accountants' exemption for SMSF advice.
The law, as it stands, has taken regulation out of the hands of the professional bodies and put one set of standards in place for all professionals in the industry. You need to ensure that you comply with the current requirements. if it changes, then great. if not, then you are protected.