March 2020 Tax Round Up - applying the SG Amnesty
by Knowledge Shop Editor, on 02/03/20 06:49
The long awaited superannuation guarantee amnesty passed Parliament late last month.
Employers who have fallen behind with their SG payments now have 6 months to 'self-correct' under the amnesty. But, with the amnesty comes additional penalties if employers fail to take advantage of this one-off opportunity.
Members, download the full March 2020 Tax Round Up (login first) from the member-only website. To see what Knowledge Shop membership offers, call the team on 1800 800 232 or take an online tour.
Join Michael Carruthers (Tax Director, Knowledge Shop) and Lisa Armstrong (MD, Knowledge Shop), for just the juicy bits of change for accountants and advisers:
SG Amnesty - Treasury Laws Amendment (Recovering Unpaid Superannuation) Bill 2019 has passed both houses of Parliament. Employers have six months to 'self correct' under or late payment of superannuation guarantee under reforms that have passed Parliament. We explore who and how.
Director penalty notice regime extended - Treasury Laws Amendment (Combating Illegal Phoenixing) Bill 2019 received Royal Assent 17 March and extends the director penalty notice regime to GST amounts. This means that the director penalty regime will cover unpaid PAYG withholding amounts, superannuation guarantee amounts as well as GST, LCT and WET liabilities and increases the level of personal risk associated with being a director of a company.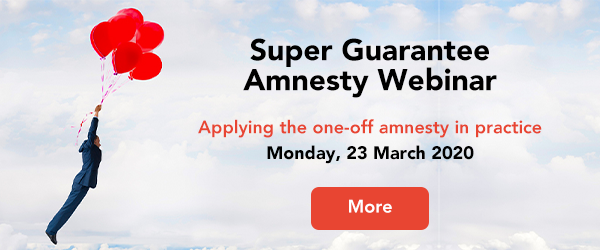 Not a Knowledge Shop member? Take a tour and find out why Knowledge Shop is Australia's most cost-effective practice support resource!