Senate passes FASEA Exam and Education Extension
by Conrad Gilbert, on 17/06/20 10:10
The Senate today passed legislation extending the deadline for the transitional education and exam requirements for existing financial advisers.
Treasury Laws Amendment (2019 Measures No. 3) Bill 2019 defers the transitional timeframes for existing providers to comply with the education and training standard requiring completion of an approved degree or equivalent qualification and the passing of an approved exam to 1 January 2026 and 1 January 2022, respectively.
The Corporations Amendment (Professional Standards of Financial Advisers) Act 2017 significantly lifted the education and training standards required by financial advisers that provide personal advice to retail clients.
Applying from 1 January 2019, these standards require an individual (a relevant provider), among other things, to hold an approved degree (or a higher or equivalent qualification) and to pass the FASEA prescribed exam.
Under the transitional measures, existing providers were originally required to hold an approved degree or an equivalent qualification by 1 January 2024, and to pass the FASEA exam by 1 January 2021.
Financial adviser exam
Existing providers must pass the FASEA exam by 1 January 2022 – an additional 12 months. If this deadline is not met, you can no longer be a relevant provider.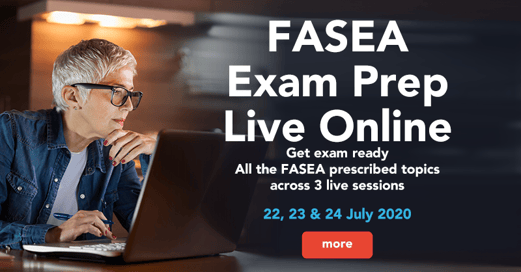 There are no further extensions to the original deadline extension proposal to cater for the impact of COVID 19.
To date, 7958 advisers have sat the exam (35%) with 86% passing. Seventy percent of the profession are yet to pass the exam with 18 months to go – that's well over 17,000 advisers.
If you fail the exam, you can resit but be aware that it takes approximately 7 weeks for the test results to be released and you cannot resit the exam within 3 months of your last test. If you leave your exam until the last few months of 2021 and fail, if you want to continue in the profession, you will need to qualify as a new entrant.
FASEA Exam Resources
Adviser education requirements
Existing providers must now hold an approved degree or equivalent qualification by 1 January 2026 – an additional 2 years. Use FASEA's education pathway tool to help assess your individual requirements.
By 1 January 2026, advisers must have an approved degree and complete a bridging course on the FASEA Code of Ethics at AQF8 level if this unit was not a part of the degree. See Schedule 1 of the Corporations (Relevant Providers Degrees, Qualifications and Courses Standard) Determination 2020 for the list of approved degrees.
If you have not completed an approved degree but have a relevant degree, you will need to complete 3 bridging courses at AQF8 + 1 FASEA approved subject by 1 January 2026. Bridging course subjects include Ethics for Professional Advisers, Behavioural Finance (client and consumer behaviour, engagement and decision making), Financial Advice Regulatory & Legal Obligations (Corps Act, AML, Privacy & Tax Agents Services Act).
A relevant degree is an AQF7 (Bachelor), 8 (Graduate Diploma) or 9 (Masters) qualification in a related field of study that contains at least 8 courses in one or more of the following designated fields of study in any combination (can be across multiple degrees):
Financial planning (which includes financial advice areas of: superannuation, retirement, insurance and estate planning)

investments (which include all types of investment e.g., shares, derivatives, foreign exchange, options etc.)

Accounting, taxation/tax law (as approved by the Tax Practitioners Board (TPB))

Finance law, finance, business law (as approved by the TPB)

Estate law

Banking, and

Economics
For those without a relevant degree, you will need to complete an approved graduate diploma (7 subjects at AQF8) by 1 January 2026.
For existing advisers, a maximum of 2 credits are available for approved prior learning for each of the following:
Completion of the Advanced Diploma of Financial Services/Planning (ADFS/P) or equivalent approved by FASEA.

Completion of education undertaken in the process of attaining an approved professional designation.

Completion of between 4 and 7 courses as defined in the related degree definition.
Education pathway resources
* A relevant provider between 1 January 2016 and 1 January 2019, and was not prohibited from providing personal advice to retail clients in relation to relevant financial products on 1 January 2019