Knowledge Shop.
The professional 'wingman' for

financial advisers
Technical Help Desk.
Relevant & meaningful on-demand CPD.
Technical updates.
Client newsletter.
All for one monthly fee.
"In an ideal world, every AFS licence would provide this service but they can't."
The Knowledge Shop financial advice membership gives you the certainty you need when you need it - all in one place, all for one low monthly fee, with no lock-in contracts. Nice.
Professional technical help desk
One place for the answers you need across a myriad of issues - professionalise your technical support.
Professional technical help desk
CPD on-demand
Practical CPD that develops your skills and knowledge (not just a CPD point)
CPD on-demand
CPD management
See your progress, and that of your team, across a calendar or financial year - and give access to your AFSL.
CPD management
Monthly client newsletter
Keep your clients informed with a topical, readable newsletter written in their language
Monthly client newsletter
Diverger family advisers - GPS Wealth Paragem, AFSL Compliance - talk to Aaron Samonte for mates rates 0478 076 738.
The membership is a service, not just a system so there is nothing to learn or implement. We're here to support how you do business.
Your membership includes access to the member portal for your team* including help desk support**, the newsletter and updates, CPD management for all, and one CPD subscription to get you started. Did we mention there are no lock-in contracts?
After sign-on, you are billed on the first working day of each month. If the service doesn't work for you, that's fine, just let member services know and we'll stop billing you and close out your access at the end of the month (you get to keep access and use of the CPD management tools).
What to chat? Call our devotee of the deal, Lee Marshall on 0434 067 133
The best way to see if the financial advice membership is right for you is to book in a tour. In 15 mins or so, you'll know.
Technical Help Desk.


Technical support across multiple specialisations
One place for the answers you need when you need them - tax, super (advice, compliance, SMSF), aged care, compliance, ethics - we cover it.
No more 'phone a friend' generalisations, or spending time researching answers. Leave it to our specialist team to give you what you need.
And because the membership is for your firm, your more junior team members can get a resolution from us rather than piling up at your door.
All Q&As are tracked and your history of answers accessible on the portal.
Skills focussed adviser CPD
Adviser CPD is about building skills, learning new knowledge, expanding ideas – not ticking a box for the regulator. Your brain is like a muscle so let's help your cerebrum 'buff up'.
Even topics you have to get across like compliance and ethics should have a practical impact that adds value. Anything less is a waste of your time.
Membership provides access to on-demand adviser CPD. We take a practical, often case study approach because as Aristotle said, "For the things we have to learn before we can do them, we learn by doing them"… and it's a whole lot less boring.
And, all of your CPD is accredited, tracked and your CPD certificate accessible for download.
Want to see? Complete the Does your client really understand what you're saying? IQ course (1 Ethics CPD hour).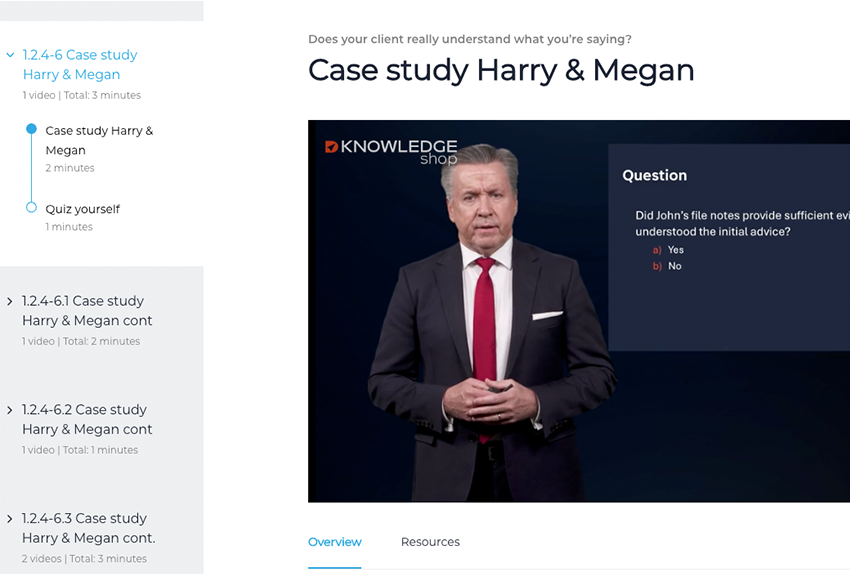 Where your CPD comes together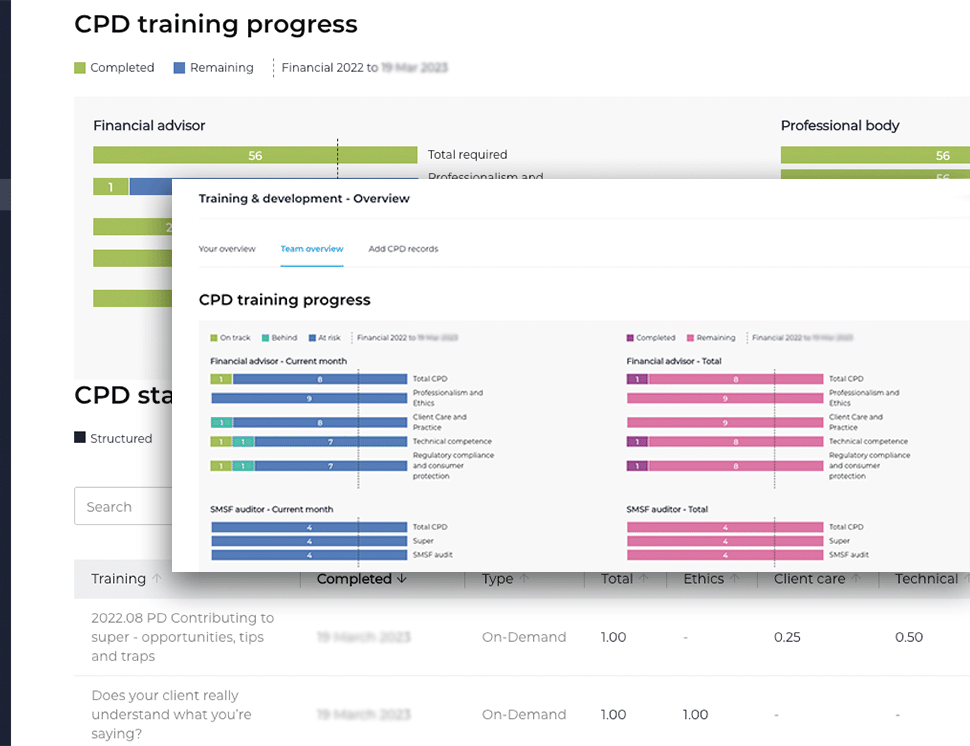 For you
CPD tracked as you complete it.
Because it's not all about us (I know, we were surprised too), you can add CPD from other providers manually or as an import. Export your CPD history to excel to import to another system.
Track your requirements to your regulatory requirements (financial adviser, SMSF auditor, Tax agent, BAS agent)
Share with your AFSL
For your firm's managers
See how your team are tracking against requirements

Export reports
For AFSLs
Review CPD activity, progress and completion of your advisers

Reject CPD if it doesn't look right

Export CPD and CPD history
Updates clients might actually want to read
Keep in contact with clients in a positive way. Covering the current issues and the questions clients often ask, our newsletter is jargon free.