Knowledge Shop.
The advisers'

adviser
Technical Help Desk.
Workpaper Knowledge base.
Quarterly CPD.
Technical updates.
Client newsletter.
All for one monthly fee.
What is the Knowledge Shop Membership?
We're a comprehensive support service for busy accounting practices:
Accounting help desk - answering your questions (because how long do you spend looking for answers and how do you know your answer is, right?)
Accountants workpapers - keeping the workpapers, checklists and standard letters you need current
Accountants CPD - engaging you and the team in practical CPD
CPD Management - helping you oversight your teams CPD progress
Client newsletter - writing your client newsletter and client alerts, and
Technical updates - when change occurs, bringing you and your team up to speed.
We deliver the certainty you need when you need it. All in one place, all for one low monthly fee, with no lock-in contracts. Nice.
Practitioners across Australia rely on the member help desk to:
Save research time (because how long does it really take you to find an answer, and then how do you know you're right?)

Protect against the risk of getting it wrong

Test-check thinking

Take team member enquiries (so they're not piling up at your door)

Ensure what you are advising clients is based on current law and practice because change is a constant
And, questions are lodged and tracked for your practice so you can see your history.
Your firm can ask up to 15 questions per month.
You can lodge your questions online through the member portal, by email or simply phone us and we'll come back to you within 24-48 hours with a practical answer (if it's urgent let us know).
We'll generally respond in writing to questions in writing (handy to attach to your workpapers).
You can see the status and history of your Q&As on the member portal (for managers, you can also see what your team are asking and the responses).
Plus, you can see the Q&As we've edited and published from other advisers. An awesome resource.
You can ask anything you like that accountants advise on. From tax, accounting, super, specialist areas like valuations and M&As, centrelink, practice management, and other issues as they apply to the business of accounting – there is a lot.
We cover the range of issues that arise on the jobs that accounting practices typically deliver.
The best way to see the help desk is with a tour of the service – just book in a time, we'd love to show you how we help.
Mindreading. We only answer the question you have asked. We will always try and clarify with you if the question is not clear but we don't know what's in your head.

Provide an absolute answer if one does not exist – there are some issues that don't have a definitive answer. If there is not an answer but ways to approach an issue, we will give you these.

Opinions. The membership offers a help desk service, it is not a replacement for formal tax advice. We will answer your question as much as possible but cannot provide an opinion - we don't know your client and can't advise on their individual scenario.

Calculations. We can tell you whether you have gone about something the right way but we will not review and confirm your calculations. We have no control over the inputs and interpretation of the data.

State Taxes. While we will point you in the right direction, State Taxes are outside of what accountants are able to advise on under the Federal Tax Agents Services Act. We can only give you factual information on State based laws.

Industrial relations. We can assist with typical payroll queries, ETPs, contractor v employee etc., but not industrial relations Awards, entitlements etc., covered by the Fair Work Act and the related State legislation.
"Your help is invaluable. Much appreciated."
You ready to be a part of this brilliant community of accountants?
Got a question? 1300 378 950
Live Workpaper Knowledge Base
One Clear Method of Quality Control
Updating your practice's workpapers, procedures and standards is a pain. Typically, you have a set of precedents on file that you bought or ummm…borrowed and every year someone goes through and updates them (or just changes the date).
The Knowledge Shop member knowledge base covers the jobs that practitioners manage each day. We maintain the standards and ensure that they are practical and useable - year-end, FBT, CGT, Div 7A and so much more.
Let us do the maintenance for you and stop the time wasted on unproductive and unhappy tasks. Just download what you need when you need it.
Your CPD journey is more than just some excellent, accredited CPD. It's about how you manage your CPD journey – tracking what you have completed for the regulators and professional bodies, and importantly, understanding how and what you are learning fits with your development as a professional.
Knowledge Shop membership delivers:
3 hours of quality accredited CPD every quarter
Our practical member-only sessions are designed to keep you and your team up to date and address the current issues and problem areas in practice. See the latest member PD. Two team members come for free to the in-person PD, and 5 online.
CPD Library
Missed the quarterly CPD? Access the library of accredited and interactive recordings and reference materials when you need them.
CPD Management
Track your CPD and the CPD compliance of your team against your regulatory and professional body requirements. Any Knowledge Shop training you complete will register as soon as it is accredited.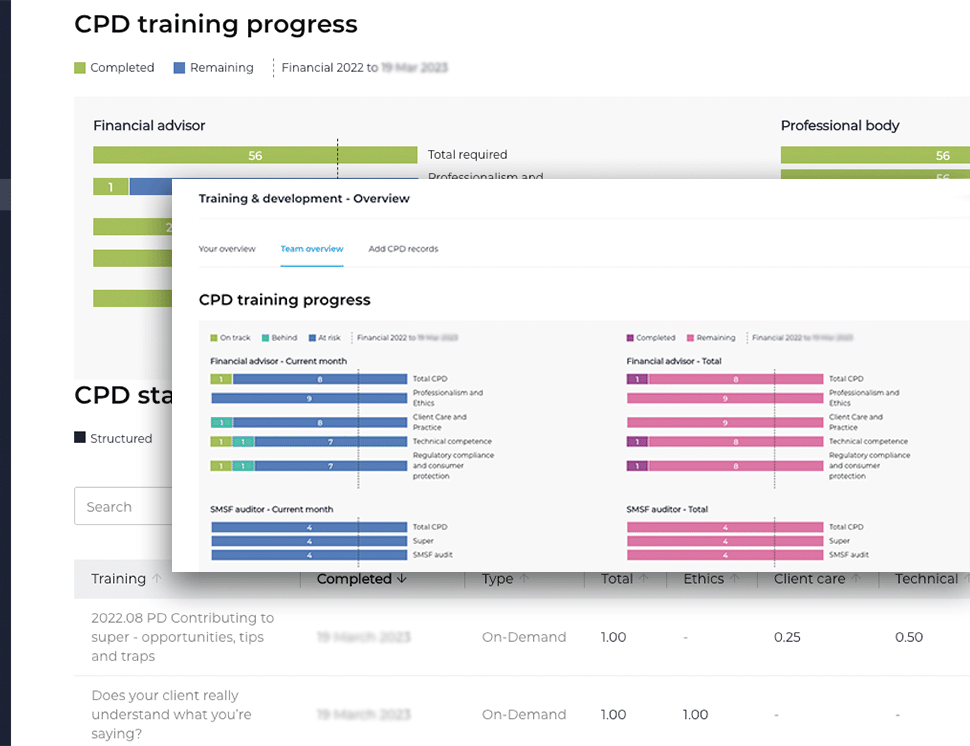 For you
CPD tracked as you complete it.
Because it's not all about us (I know, we were surprised too), you can add CPD from other providers manually or as an import. Export your CPD history to excel to import to another system.
Track your requirements to your regulatory requirements (Tax agent, BAS Agent, SMSF auditor, financial adviser)
Advisers, share your CPD with your AFSL
For managers
See how your team are tracking against requirements

Export reports
Updates clients might actually want to read
We write the articles and updates; you use them in the way that works for your firm.
Keep in contact with clients in a positive way. The Your Knowledge monthly newsletter covers the current issues and the questions clients often ask.
Plus, when major change occurs we'll write your essential client updates (includes the white paper Federal Budget analysis).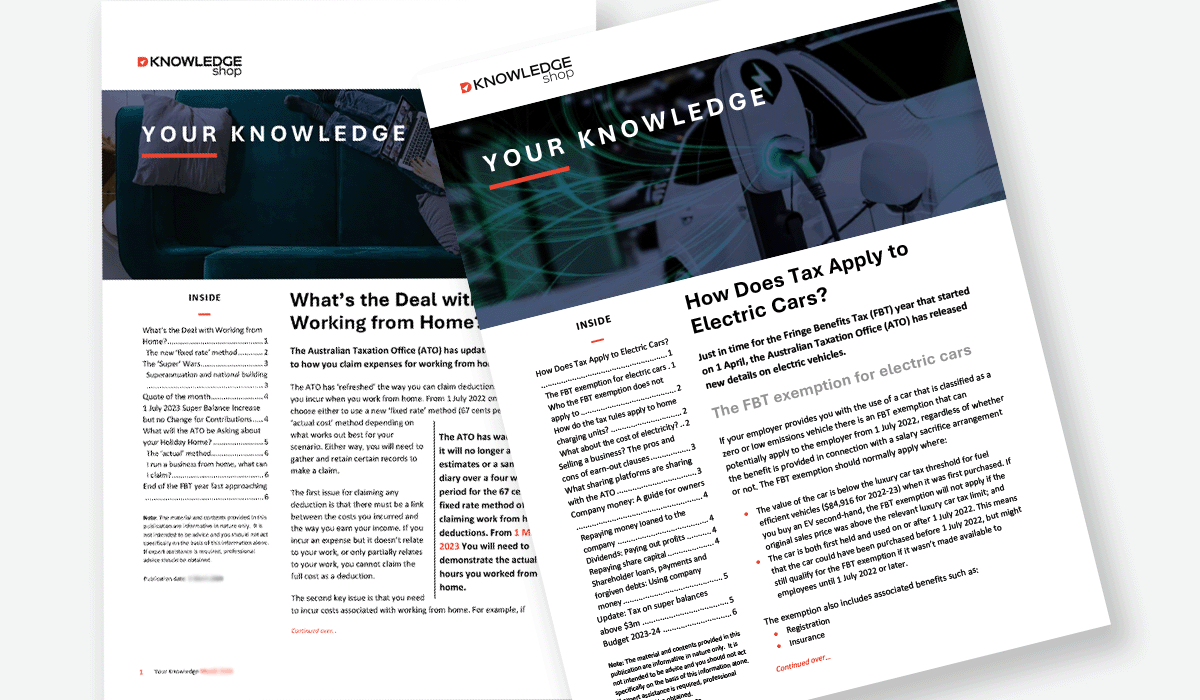 Let's have a chat about whether Knowledge Shop membership is right for your firm: